60 V system
The power of petrol, without petrol
With Kress, zero-emissions garden tools take a major leap forward. High efficiency brushless motors and state of the art batteries have closed the power gap with petrol tools. No more excuses to keep operating noisy, smelling and money-hungry petrol tools.
Kress batteries incorporate the latest advancements in battery technology. Their energy density and thermal stability deliver high power, extended runtime and long life.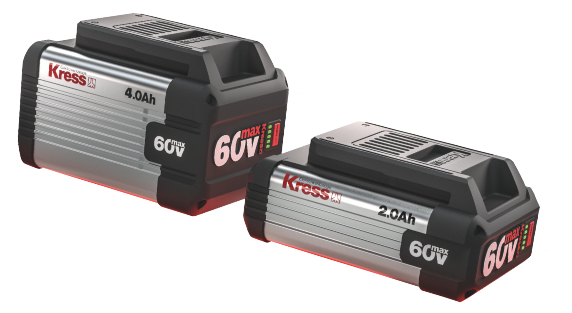 No emissions. No greenwashing.
With a long history of electric motor design and no petrol heritage, Kress is entirely committed to making the transition from internal combustion engines to cordless happen.
No more excuses
Users of outdoor power equipment have tagged cordless tools as low-powered and with limited runtime. Kress high-efficiency brushless motors deliver power comparable to that of petrol engines, while the batteries recharge faster than they discharge, allowing virtually unlimited runtime.
Substantial savings
By embracing the transition from petrol to battery-powered tools, you're not only saving the environment. You're saving your wallet as well. Cost of fuel: with the cost of a litre of petrol, you can charge a large capacity battery (60V 4Ah) for over 40 times*.



* Enough to run a cordless hedge trimmer for 54 hours, or to a lawn mower to mow 48,000 square metres.
Cost of maintenance: no oil changes, no replacement of spark plugs and air filters. Cost of service: brushless DC motors' lifespan is virtually eternal, while internal combustion engines have hundreds of parts that must be replaced when they wear out.

Heatshield
The cells are thermally insulated to prevent overheating in the most demanding applications, and operate under extreme ambient conditions in a temperature range of -10 to +45° C.

Cell Guard
Each single cell is encapsulated to guarantee protection from humidity (IPX5), shocks and vibrations.

Smartlink
Through the SmartLink communication protocol, batteries and motors talk to each other. Cells are protected from overload and the energy consumption is optimised.
No downtime
Kress chargers are designed around an advanced thermal system that controls the batteries' temperature during charge. This allows for super-fast charges without stressing the cells. So fast that the dead battery charges quicker than the battery in use needs to run out. And swapping batteries is quicker than filling a tank with petrol.