All robot lawn mowers
How to choose the right robot mower
Compared to traditional mowers, robotic lawn mowers produce a much healthier, thicker and better looking lawn. When choosing the right robotic lawnmower, the size of the lawn is the first thing to pay attention to. But don't underestimate complexity: sloping terrain, narrow passages, obstacles and the presence of different areas are to be taken into consideration.
Value your investment
If you buy an ordinary robot mower, it will remain as it is over the course of ownership. Just like your smartphone and computer, a Kress Mission will instead be constantly updated and improved in its performance, features and safety, by means of automatic software updates.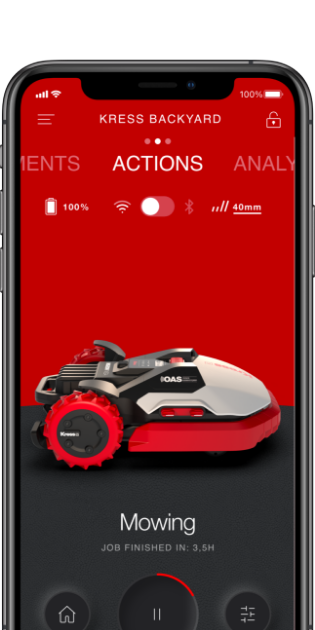 Behind the scene
The robot that mows your lawn is the tangible side. But there's a lot more up in the sky. By moving computing from local to the cloud, Kress Mission robots can do things that would be unthinkable with the hardware built in the mowers.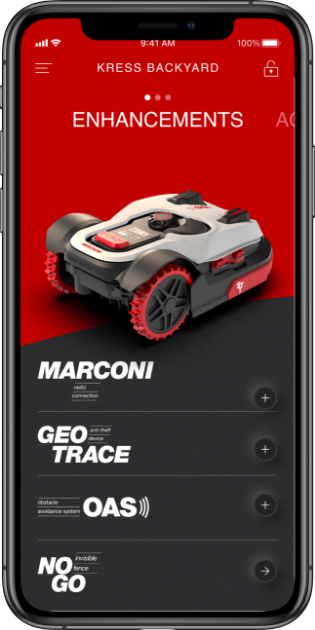 Kress Mission robotic lawnmowers rely on Wi-Fi connection to stay up to date and perform sophisticated functionality. The Marconi module* establishes a peer-to-peer connection with your Wi-Fi router over a range of 500 metres.

Kress Mission robot mowers equipped with the GeoTrace module* can be tracked if they are taken outside of their virtual geofence. Owners get notified on their smartphone.

Changes, even temporary, to the layout of the garden can be quickly made without reworking the installed perimeter wire, thanks to the No-Go module*.


* Sold separately
Team Action
Very large lawns can be maintained by two or more Kress Mission mowers, which will operate in perfect harmony. The fleet can be easily managed via the Kress app.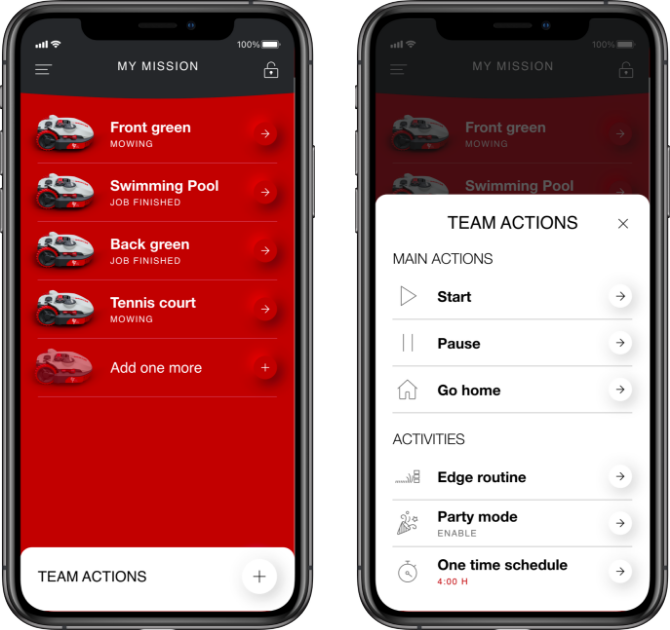 Auto schedule
Manually programming a robot mower falls short as the growth rate of the grass changes continuously during the mowing season. Influencing factors include temperature, sunlight, water supply, nutrition, soil composition and grass species. Cloud computing combines relevant data and builds a specific working schedule that's delivered to each individual Kress Mission on a daily basis.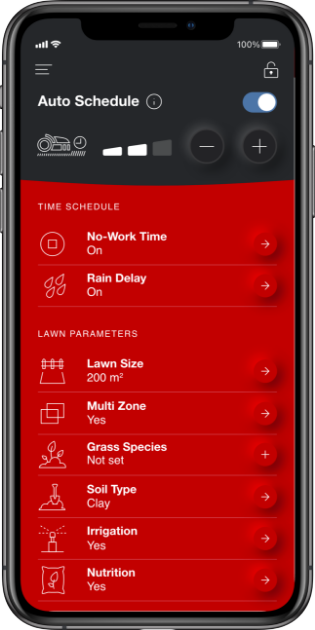 Lawn size
Auto-Schedule knows exactly how long it takes to complete the job and sets the working schedule accordingly. No more guess-work.

Multi zone
Auto-Schedule makes sure different zones of the lawn are managed the way they should.

Grass species
Different species have different growth rates. Auto-Schedule knows how to perfectly adapt the mowing intensity to each species.

Soil Type
Sandy soils drain water, clayey ones retain it. This has an impact on the growth rate of the grass. Auto-Schedule takes this into account.

Irrigation
Let the app know if you are using a permanent irrigation system. Auto-schedule will factor this info in when adjusting the mowing program.

Nutrition
Supplementing the lawn with fertilisers has an impact on the rate of growth of the grass. Auto-schedule takes this into account.

Mastering obstacles
Conventional robot lawn mowers can only handle obstacles by bouncing back once they hit them. If your lawn has trees and other obstacles, choose a Kress Mission model with intelligent Obstacle Avoidance System.
Cutting height adjust
The cutting height must be adjusted during the mowing season. In summer, taller grass will develop deeper roots to suck moisture from underground and shade the soil, decreasing evaporation. Height adjustment is at your fingertips.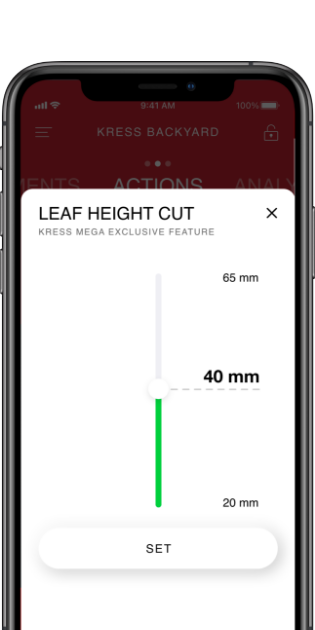 Mastering complexity
Kress's patented INTIVA technology makes Mission robot mowers navigate through narrow and intricate passages with ease. As a side effect, the intelligent navigation system allows Kress robots to cover the work area in a shorter time, giving you longer availability of the lawn.

Tidy edges
Kress Mission's blades cut as close as possible to the border of the lawn, leaving very little trimming work behind.
Manage your Mission
From the Area Calculator feature to fine-tuning mowing schedules and much more, the Kress Mission app is all you need.